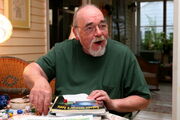 Gygax, Ernest Gary, n. (1938 - 2008 ) game designer and author; one of the original creators of Dungeons & Dragons; founded TSR with Don Kaye in 1973. [GJ1]
---
Addendum: From [1]: "E. Gary Gygax is one of the gaming world's most influential figures. Born in Chicago in 1938, he was playing chess at age six and with miniatures by age fifteen. He founded GenCon, now the world's largest and longest-running annual hobby gathering, back in 1968. His list of game-design credits alone would fill a page. Everyone knows he co-created Dungeons & Dragons -- and changed the face of role-play gaming forever -- but not as many know that he's helped create nine other games (and several rules sets for still more games) and written thirteen books including seven bestsellers and two "how-to" books on gaming. His work on Advanced Dungeons & Dragons includes no less than four rule books, two supplements, three accessory sets, and seventeen (!) adventure modules. Gary has appeared on several television shows including Entertainment Tonight, PM Magazine, 60 Minutes, and on the German national television network. He or his assignee had direct creative control over the Dungeons & Dragons animated TV show from 1983-85. He has won seven major awards, is a four-time Best Game Inventor as named by Games Day in the United Kingdom, and was a Guest of Honor at the very first Dragon•Con in 1987. His interests include game play (but not as much these days as he'd like to play, alas), reading (history, fiction of all kinds, science fact, and occult), travel, bird watching, fishing, walking, and pyrotechnics. He grudgingly admits that he never finished high school and got just a bit over a year in college credits. His special likes include gourmet dining and fine wines, dry martinis, John Boorman films, Orson Welles, Ernie Kovacs, English comedy, ancient Egypt, Marx Brothers films, thunderstorms, dinosaurs, original EC Comics, Sherlock Holmes, C.S. Forester's Horatio Hornblower novels, good coffee, and Camel cigarettes." [GJ1]


Addendum #2: Gary, often referred to as the "Father of RPGs" passed away March 4, 2008. Though he had been in semi-retirement since 2004, Gary had still been involved as much as he could with the gaming community. Though he was a polarizing figure from time to time, the gaming community as a whole mourns his passing.
Ad blocker interference detected!
Wikia is a free-to-use site that makes money from advertising. We have a modified experience for viewers using ad blockers

Wikia is not accessible if you've made further modifications. Remove the custom ad blocker rule(s) and the page will load as expected.